Postal workers, ambulance staff and train drivers are just some of the workers who will be taking to the picket line almost daily throughout December.
As the country struggles to cope with the cost of living crisis and battles against a recession, one union after another have announced their intention to embark upon industrial action fighting for better pay.
As of today, there are only being three days this month when there will be no strike action.
We ask, how close are we to a general strike?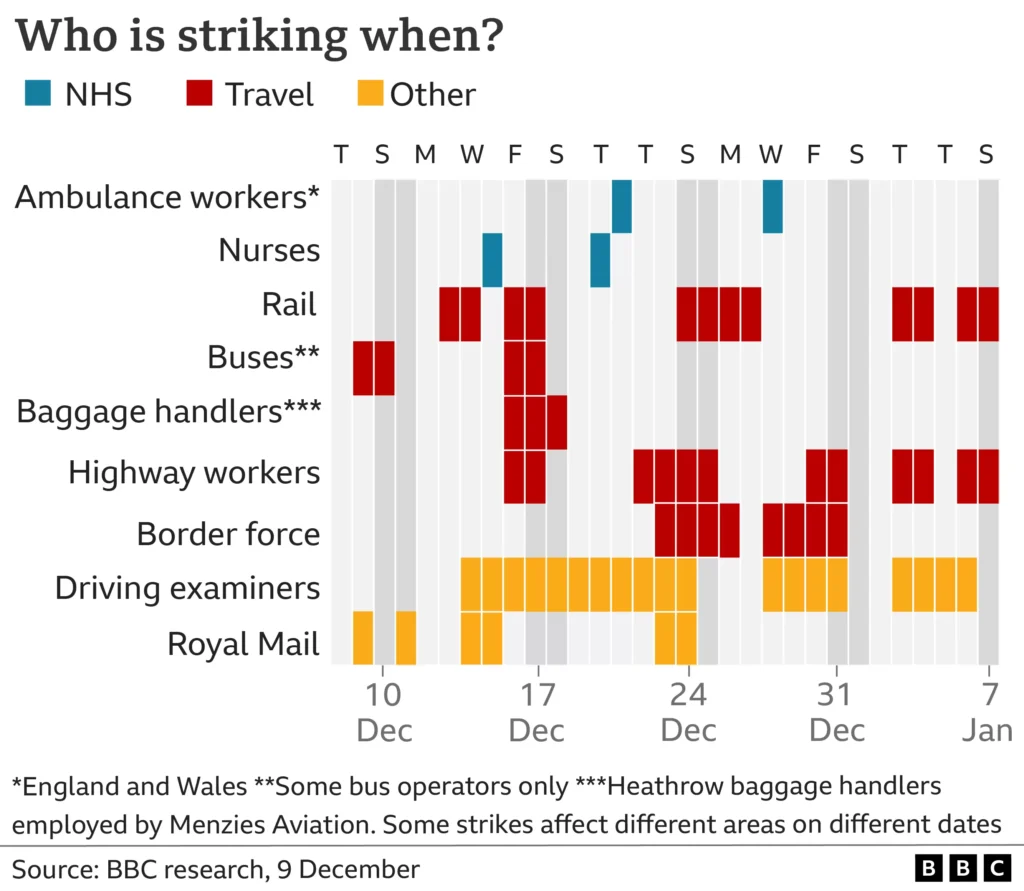 Why are there so many strikes taking place in December this year?
The cost of living crisis is a result of soaring inflation rates which have exceeded wages following the worldwide pandemic.
Shutdowns of factories to prevent the spread of Covid-19 have led to the disruption of supply chains across the globe and the Russian invasion of Ukraine has led to many international companies ceasing their operations in the Kremlin run country.
Workers are just one sector of the country who are feeling the brunt of the economic consequences.
On the picket line outside Sheffield West Delivery Post Office this morning. Ben, a representative for Communication Workers Union (CWU), said employees had been threatened with a change to working conditions and a pay rise offer of 2% which was not in line with inflation.
He also argued it was always going to be a "provocative action" for the bosses of Royal Mail to suggest a "derisory" small pay offer.
In an open letter to their customers, CEO of Royal Mail Simon Thompson, urged the CWU to call off their "damaging" strikes.
He claimed they listen to their employees and their "terms, conditions and pensions will still be the best in the industry".
Ben said: "There's no point striking if it's not going to cause any disruption. Nobody wants to cause any disruption anymore than we want to lose wages.
"The service user who should be pressuring the business to resolve this dispute that they started. For that to happen, it needs to happen when it is the most inconvenient."
It's not just postal workers that are unhappy.
The University and College Union (UCU) represents teaching staff, lecturers and academics.
This year they organised and supported a strike that saw 70,000 university staff taking industrial action for three days in November. This was also over pay, pensions and working conditions.
A Sheffield UCU source said that the strikes were a consequence of an economy that is run for financial gain rather than for the interests of workers.
He said: "Whilst we know that our employers have the money to offer us inflation matching pay rises, and we can see the decline in investment in staff costs in percentage times, the sector overall is heavily influenced by government funding and priorities.
"People experiencing the consequences of inflation are saying enough is enough."
Not all workers would choose to take strike action.
Charlotte, an apprentice emergency medical technician for the ambulance service, said she understands the sentiments behind the strikes.
Ambulance workers are said to be struggling to make ends meet after their pay was not increased in line with inflation. Their walkout comes the day after members of the Royal College of Nursing staged their own strike.
Charlotte said: "I completely agree with it and understand why everyone wants to do it. But personally, I will come to work as normal, as will my crewmate."
She explained that the results of the vote for the East of England were really close – between 48-49% in support of industrial action – but some of her colleagues complained they did not receive their ballot in time because of the Royal Mail strikes.
UNISON, the union for ambulance workers, have confirmed they are going to re-ballot all ten trusts of the ambulance service, after the most recent vote was just short of the threshold needed.
What is a general strike?
A general strike, which is classed as a political act, refers to when members of several unions across different sectors work together in tandem and refuse to work.
The last general strike in the UK took place in May 1926. Over a million workers refused to go to work in solidarity with the miners, who were protesting against a pay cut and an increase in their working hours. It lasted nine days but ultimately did not work.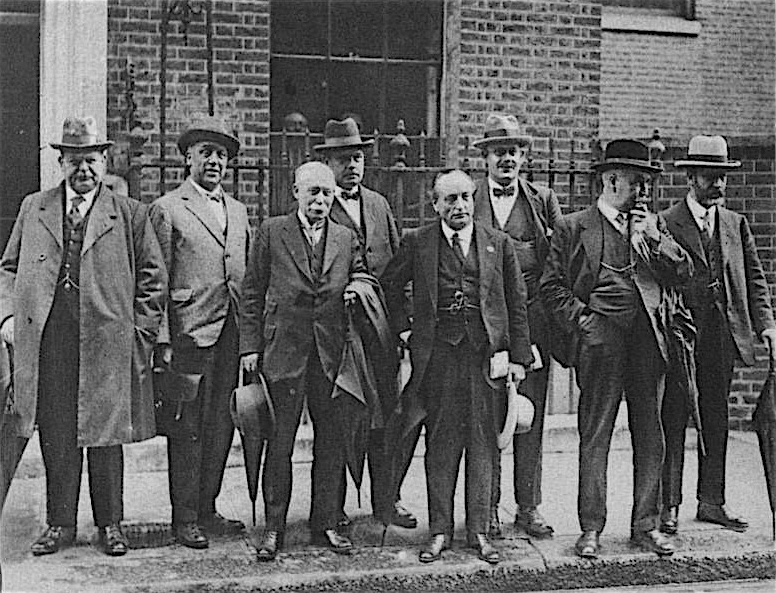 Following her own Winter of Discontent in the 1970s, Margaret Thatcher banned secondary strikes, also known as "sympathy" strikes, under Section 224 of the Trade Union and Labour Relations (Consolidation) Act 1992.
This prevents unions in other sectors from calling strike action in solidarity with one particular set of workers, line in 1926.
However, there are no laws against unions collaborating with action on the same day – or action being taken on multiple days close together.
What happened in 2011?
On the 30 November 2011, hundreds of thousands of public sector workers took strike action over an ongoing dispute over pensions.
It led to the closure of some schools and cancellations of hospital appointments and ended up being semi-successful, as negotiations moved forward.
The industrial action was exacerbated by concerns over a fall in living standards, much like we are seeing today with the cost of living crisis.
While it was not considered a general strike, the 2011 industrial action over pension had the most working days lost since 1992.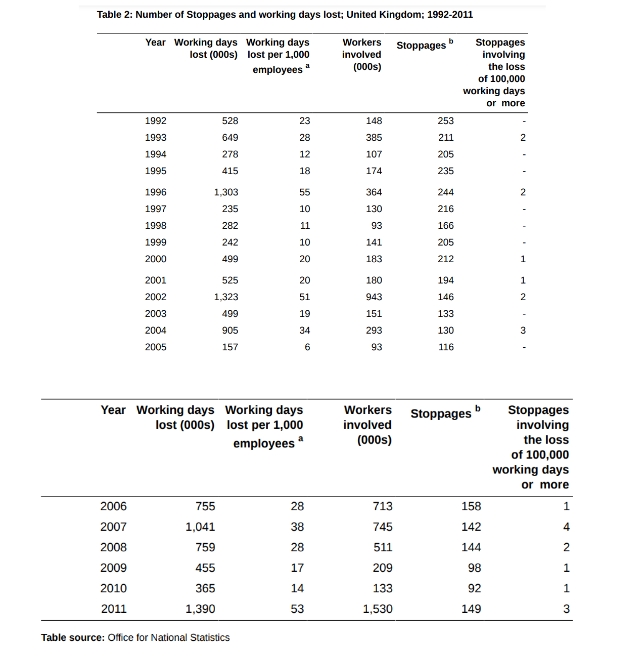 So will we have a general strike this winter?
A general strike has not explicitly been called for by the larger unions as of yet.
While the Trades Union Congress (TUC) has called on the government to do more this winter, including pressure to get pay increased to protect families from the "misery of a recession", they have not come out in favour of a general strike.
Mick Lynch, the general secretary of the National Union of Rail, Maritime and Transport Workers (RMT), has become a prominent voice in recent weeks in advocation for a general strike.
He predicts that "generalised" strike action could be seen as early as the beginning of next year.
In an interview with BBC Radio 4's Today Programme on Tuesday, he said the government was "coordinating an attack on working people" and that "it would be foolish of unions not to coordinate themselves in response to those attacks."
If unions deem the almost collaborative strike action in December as beneficial to their progress in negotiations, the UK could possibly see discussions about generalised action early next year.