A Sheffield organisation focused on sustainability has received official recognition from the King.
Green Estate Community Interest Company (CIC) announced it was chosen for the Sustainable Development category of the The King's Awards for Enterprise on 21 April.
It is also currently celebrating its 20th year anniversary. Roz Davies, who joined the company as CEO last year, saw the award as an opportunity for the company to gain recognition for its environmental efforts.
Andrea Nix, who is part of Green Estate's management team, said: "We're as pleased as punch – we honestly can't believe it still.
"It's a real honour for the community too – in the eighties, Roy Hattersley described this as the worst estate in Britain!"
Ms Nix described how the Manor estate was previously a "wasteland" of "derelict buildings, stray dogs and burnt out cars" before the dramatic environmental turnaround.
She explained that its heritage site Sheffield Manor, the Parkland wild turf research, and its landscaping services are all geared towards sustainability.
It introduced Sustainable Urban Drainage Designs (SUDS) to Manor Fields Park, which it has managed for close to a decade. Green Estate is now involved with current efforts by Sheffield Council to regenerate the Castlegate area of the city using SUDS.
'Superbloom' flowers from the company's Pictorial Meadows were used in decorative arrangements at both the Platinum Jubilee and 2012 London Olympics celebrations. Ms Nix said she hoped King Charles had come across the flowers there.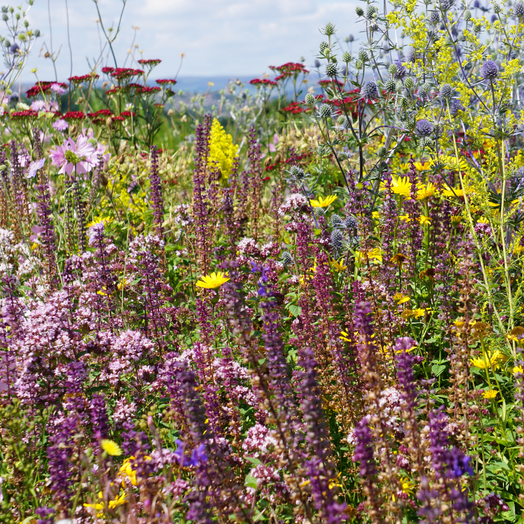 The company's mission includes increasing Sheffield's recycling figures, reducing the carbon footprint of transportation across the city, and diverting organic matter from landfill.
Its team of 70 employees and over 40 volunteers work across 2.4 acres of land surrounding Sheffield Manor to "grow engaging, adaptive and resilient urban places".
Volunteers that help out with gardening and maintenance get to take home a share of the vegetables grown on the sites. "It's green therapy," said Ms Nix, "It gets people out of the house, gets them active and learning new skills, and socialising here helps with mental health and isolation too."

Another point of pride is the waste recycling site at Manor Oaks Cottages, which was initially set up in 2004 alongside Heeley City Farm. Local residents can drop off any "clean green waste" for free, such as branches, leaf, shrub, grass and hay cuttings, and non-invasive weeds.
Over 148 "outstanding" UK companies were chosen to receive the first ever King's Awards this year, across categories such as innovation, international trade, and promoting social mobility.
Minister for Enterprise Kevin Hollinrake said: "I congratulate the first ever recipients of The King's Awards for Enterprise, who exemplify the talent, innovation, and entrepreneurial spirit of British business.
"I wish them every success and commend the invaluable contributions they make to communities both at home and overseas, helping to grow the UK economy."
Twelve companies across Yorkshire and the Humber were amongst the winners, with Green Estate being one of two selected for sustainability.
The second recipient was Naturaw Pet Food Ltd. based near Leeds, which uses solar power to make natural, unprocessed dog food.
Naturaw was founded in 2014, and now has eighteen employees serving 10 thousand customers across the UK.
It had been shortlisted for the award last year but was unsuccessful. Chris Broadbent from Naturaw told Sheffield Wire: "It's not an easy award to win.
"We're going to carry on growing and asking people to join the 'rawvolution', as we call it," Mr Broadbent joked.
As award winners, Green Estate and Naturaw will both receive a Grant of Appointment (an official certificate) and a commemorative crystal trophy.
"We're hoping that any similar communities or organisations can use a similar model to open up green spaces," said Ms Nix. "It's really put a stamp of approval on the work we're doing."