Despite one in ten women living with the condition, endometriosis is under-researched and frequently misdiagnosed, say those who are currently suffering from it.
Christina Paraug's journey with endometriosis began when she was just eight years old. Suffering severe chest pain, her doctor in Canada dismissed her concerns as growing pains, or an allergy, or maybe something in her stomach – they didn't really know.
She was then misdiagnosed with a hairline fracture on her hip, despite never having fallen. "At that age, you're not going to question your doctor, you know?" Christina explained.
Endometriosis is a condition where tissue grows in places other than the womb, commonly the ovaries and fallopian tubes. As Christina experienced, it can also be found elsewhere. Symptoms range from stomach pain, heavy periods and nausea, to infertility, and can have a devastating impact on the lives of those who experience it.
Though Endometriosis Awareness Month is now recognised around the world, first established in 1993 in the US, there is still minimal awareness of the condition. One in 10 women suffer from endometriosis between puberty and menopause, yet 54% of people don't know what it is, according to Endometriosis UK.
As she got older, Christina would vomit in bathroom sinks at her high school. Her friends joked about a possible pregnancy, but Christina knew something wasn't right.
"I would be rolling on the floor crying in pain with pain in my thigh, back and stomach, yet nobody could really tell me what was wrong," she said.
Misdiagnosis is rife amongst those who later discover they have endometriosis. This was the case for Louise, who wishes to keep her surname anonymous out of fear her diagnosis may affect her employability.
Her twenty-year experience of endometriosis was initially put down to perimenopause – the transitional time before periods officially stop.
"It's considered something you get early in your life – not when you're 47," she said.
Louise considered it "luck" that she was finally diagnosed after visiting a private endometriosis specialist. Upon visiting this gynaecologist, they said: "Sh*t, we should have been seeing you a long time ago."
"Everyone feels like a medical anomaly," she told Sheffield Wire.
Twenty years prior, Louise was told she couldn't have endo because she'd previously had a baby, but as she explained, it's not that simple. Though the chance of postpartum endometritis is low, it is possible, with the risk doubling for those who have undergone a C-section.
Back in Canada, one doctor eventually told Christina that based on the multitude of symptoms she experienced – including passing blood in her stools and kidney infections – that endometriosis could be in her lungs, which may be causing the infection. "Someone's finally taking me seriously," she thought.
The specialist she was then referred to thought otherwise – they told Christina that the state of her lungs was a condition of laziness, and perhaps she should start running. At the time, Christina was running track for her college.
Another doctor concluded her mother must've been a smoker when she was pregnant; her mother had never smoked in her life.
The alleged widespread dismissal of female pain by medical professionals adds another layer of difficulty to getting a diagnosis. A 2022 Nurofen study revealed a "gender pain gap", where 56% of women felt the pain they experienced was ignored or dismissed. Fifty per cent of these women felt dismissed when seeking support from their GP.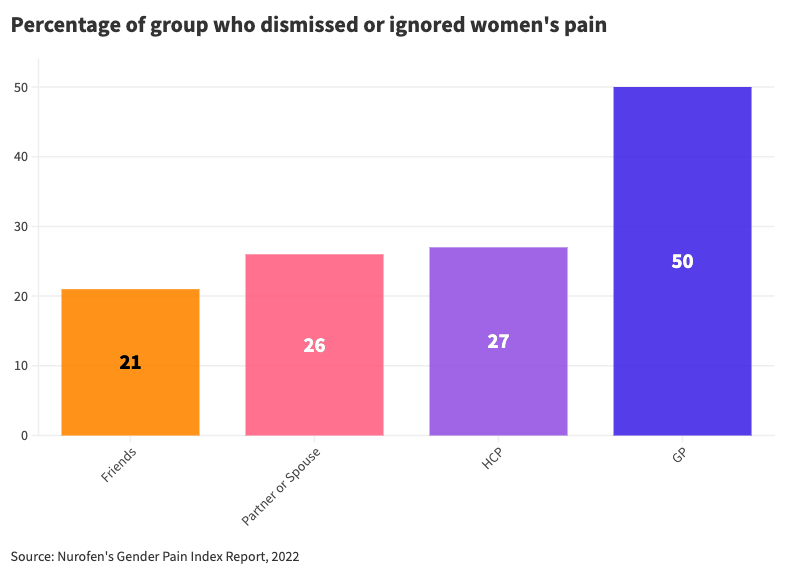 For Izzy Ferguson, 27, from Manchester, a lack of awareness regarding endometriosis has made suffering with the condition even worse.
Much like Christina's misdiagnosis of "growing pains", Izzy was told by doctors her strong stomach cramps were "just period pains.".
A year later, a stranger was calling an ambulance for her at a metro station in Madrid, after Izzy had fallen to the floor in pain.
"The man tried to tell me that the pain I was experiencing couldn't be from my period as I was curled up on a bench.
"I was in unbearable pain, so much so I couldn't talk or move, and all I wanted to do was scream. The way he spoke about it made me want to scream even more," she said.
Dr Edi-Osagie is a gynaecologist working in Manchester. As someone in the industry, he admits that both the wait time before diagnosis and the suffering women experience during these periods are "unacceptable".
He said that even amongst gynaecologists, there are still very few practitioners who understand endometriosis and how to treat individual cases.
"Back in the olden days – thirty years ago – the only thing I could offer them was a hysterectomy (a surgical procedure to remove the womb) and removal of their ovaries," Dr Edi-Osagie explained.
Crucially, there is no known cure for endometriosis, but there is an increasing number of routes to go down; including painkillers, contraceptives, and surgery.
Before considering these treatments, the only way to be officially diagnosed is by having keyhole surgery, which itself can take over a month to fully recover from.
If the endometriosis is confirmed, one potential next step is excision surgery. This involves cutting or burning off visible areas of endometriosis – which could be from the uterus, ovaries, fallopian tubes or even the bowel and the bladder.
The pain doesn't necessarily stop there. According to GYN Surgery, 40-80% of women will have a recurrence of pain within two years, as it is possible for the tissue to grow back.
After Louise went through excision surgery, her doctor told said: "Sometimes it will grow back a little bit, sometimes it will grow a lot. It's a bit like mould in the wall that way."
Cheers, she thought.
For Christina, finding the correct surgery was a long and expensive ordeal. At 27, she had no choice but to move back in with her parent's home because of staggering medical bills. In Canada excision isn't funded properly, she explained.
With no other choice and dozens of dismissals, she set up a GoFundMe, which raised the £20,000 needed for surgery from a London-based endometriosis specialist. This isn't an option for everyone; some take out second mortgages to fund a surgery which might not even work, Christina said.
Endometriosis can affect the whole body. Christina suffers from thoracic endometriosis, a rare form where tissue is found in the chest and lungs. Whilst undergoing the surgery, Christina's doctor found that she had stage four endometriosis. She lost part of her lung and diaphragm during the surgery. Organs were glued together and it was starting to infiltrate her bowels, having already completely covered her bladder.
Thankfully, since the surgery, her pain has dramatically decreased.
The condition forces some to make severe changes to their day-to-day life, and sometimes these changes are out of their control. When researching the condition, Christina met people who had lost their jobs, partners and income because of the devastating impact of endo.
For Louise, packing an extra outfit to work in case her bleeding leaked through her clothes became the norm.
Izzy has adapted to a way of living which involves not making any set plans with friends or family just before or during her period. "At first having to do this felt extremely frustrating, but it's the only way I feel I can live my life," she said.
To ensure nobody goes through the same experience, endometriosis should become a key part of medical education, Christina told Sheffield Wire.
Waiting times also need to change. For the NHS, the current wait time for endometriosis patients to be seen in an outpatient clinic is over a year. Surgical wait times can be well over two years, Dr Edi-Osagie explains.
In the time Christina had to wait for the correct surgery by flying across the world, she lost function in some of her organs, formed permanent nerve damage and lost part of her lung.
Dr Edi-Osagie urges women to seek medical help as soon as they begin to feel period pain that stops them from doing their day-to-day activities. Though they may have been previously dismissed, feeling this level of pain "is not, and should not be part of being a woman", he said.
Half of the battle is being acknowledged, it seems, so seeking out endometriosis specialists can dramatically accelerate some form of solution.
Christina's final thoughts turned to the staggering number of doctors she had seen over the years. "Maybe if you just knew that a really painful period was possibly endo, you could have helped me a little bit better."